Bam Interim Report - 4
July 25, 2004
Thanks to all our contributors. Before the deadline imposed by the US government (March 27th, 2004), we had raised and sent $620,000 to Iran for the children orphaned due to earthquake in Bam.
By that time we had successfully completed adoption of 502 orphans according to ERFO's policy.
Mr. Jamal Farivar's family including Mrs. Meftah Rezvani Farivar, Mohammad Reza and Alireza Farivar spent their New Year holiday in Bam trying to help find and distribute CDs to the children and their appointed guardians.
ERFO's work, however, continued both on and off site. Mr. Jamal Farivar and his team of volunteer social workers (in particular Ms. Najafpur, Ms. Arjomand of Bam, Mrs. Mohammadi (social worker from Kerman Behzisti office), Mrs. Massy Akhavan Farivar and Mr. Amir Akhavan Rad) had worked tirelessly in order to identify and complete the paperwork of more orphans who had a living relative willing to care for them in a nurturing family environment and out of institutions.
It was my first and the rest of the ERFO team of volunteers 3rd or 4th trip to Bam. We arrived there at 8 am on May 20th, 2004. As soon as we left the comfort of our air-conditioned vehicle, more than 100 F temperature reminded us of the hardship against which the Bam tent dwellers were working. As I had predicted, there was no sign of any relief agencies or building activities within the city. According to Mr. Khoshnood and Dr. Setayesh (the heads of Bam and Kerman Behzisti offices), ERFO was the only (and I mean the only) NGO that had been in Bam since the beginning and delivered what it promised (refer to Behzisti letter). They were disappointed and frustrated by many foreign governments, special interest groups and nongovernmental agencies for promising a lot and delivering little.
Bam truly looked like a ghost town. The streets were empty, people were in their tents and occasional workers were seen trying to clear their yards from rubble. However, this was not the scene at the Melli Bank of Bam. The government had just approved that each family was to get 2,500,000.00 Rials ($300 equivalent) loan; therefore the bank was literally packed with people trying to apply and receive "what was coming to them" (See photo).
The reason for our trip to Bam was twofold: to present a long-term certificate of deposit to 84 newly identified orphans thus bringing total number of children under ERFO financial umbrella to 586 and to increase financial assistance for children under the age of 12. During the first stage we at least doubled the financial grants to all needy children under age 12.
In order to expedite the proceedings we had been asked to do all the bank paper work related to ERFO in a designated area of the bank (see photos). Within several hours seven of us worked very hard to complete the paper work required by the Melli Bank for 112 new certificates of deposit as well as short term saving account to be presented to children that afternoon (see photos of presenting saving certificates to orphans and their guardians under a Behzisti tent in Bam). The details of children name, address, guardians and their relation with the child, bank account and the amount of money in Rials may be viewed in the children section of this site.
Based on our extensive local research and the amount of money we have raised, we are hoping to adopt approximately 50 more children and increase the financial grant of about 300 children to 10,000,000.00 Rials. We are returning to Bam in September to re-examine the need of all children under ERFO coverage and hopefully finish what we started last December 29th.
The following days we visited orphans of Bam being kept at several orphanages in the city of Kerman including the Kermanian facility caring for newborn, infants and toddlers (photo), Dr. Zia center for orphaned teen girls (photo), as well as the Dilmaghani (photo) and Sanati centers for boys (See Photo).
There are several more children that we are planning to support as soon as their paperwork is completed. 32 children with unknown identities are being kept at the Kermanian center. So far no parents or relatives have come forward to claim them in spite of multiple advertisements in the local and national newspaper, TV, etc. It is not known what their real names are nor whether they have inherited any properties such as house lots, date palms or orange groves (Bam produces the best quality dates and orange in Iran). We are committed to get these children out of orphanage and into a family environment as soon as authorities issue them names and birth certificates.
As for what we observed in Bam and Kerman, children appeared to have adjusted to their new environment, and almost all of them don't want to leave the Bam area when asked. Several new temporary shelters built by the government in the outskirt of Bam are scarcely occupied. Most people are planning to rebuild their home on the original site as soon as they possibly can.
With more than 2500 orphans under the age of 18, it is unfortunate that we were not allowed enough time to raise more money and help more orphans. We have requested an extension of license from OFAC and the State Dept. in order to be able to at least use the money that was donated by individuals for this purpose but did not clear the Sovereign bank before the general license to help the Bam earthquake victims expired. Please join me in praying that we'll get another chance to save more kids from an institutional life. There are several groups and NGOs that have raised funds to help Bam and I sincerely hope that some of them will donate all or part of their funds to help the neediest of all victims of the Bam disaster: "the parentless and unknown (identityless) orphans".
On the fundraising front, Dr. Maryam Safai had arranged a wonderful dinner party to support the Bam orphans on June 9th at the home of Dr. Zia and Mrs. Nina Ghavami in Franklin Lake, NJ.
Drs. Mahshid and Cyrus Assadi of New York City and their friends had arranged a gathering on Fathers Day, June 20th in the Patoug Restaurant in Bayside, N.Y. to support Mr. Garv who is planning to support orphans of Bam by swimming from Maryland to Washington, DC.
Finally, people of Bam (especially the guardians of orphans) appreciated the opportunity you have afforded them thru ERFO in being able to care for the children-sometimes the only other survivor in their extended family.

Sincerely,
Mohammad Farivar, MD
President
Earthquake Relief Fund for Orphans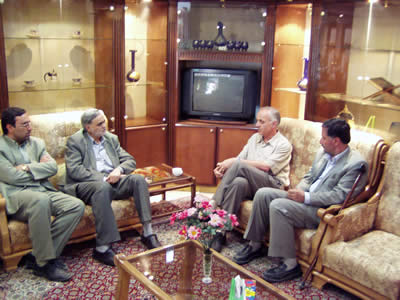 Meeting in Kerman with Dr. Khoshnood of Bam Behzisti (right),
Dr. Raah chamani of Central Behzisti (2nd from left), and
Dr. Mohammad Setayesh of Kerman Behzisti (left)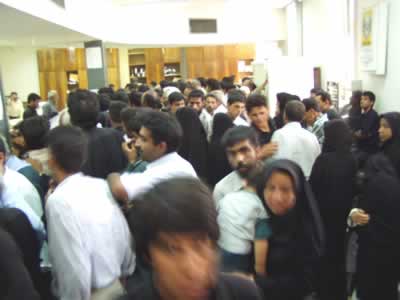 Crowd at Melli Bank in Bam to apply for a loan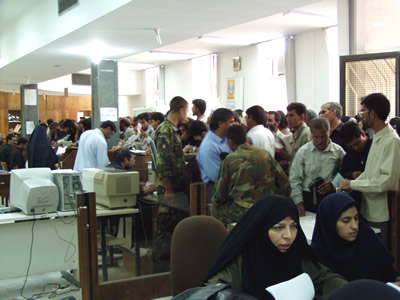 Crowd at Melli Bank in Bam to apply for a loan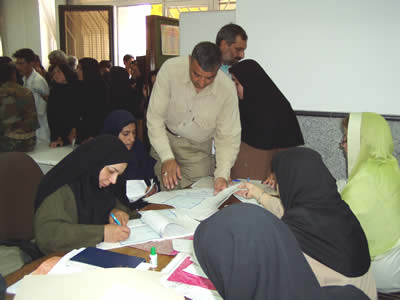 ERFO volunteers processing the children paperwork at Melli Bank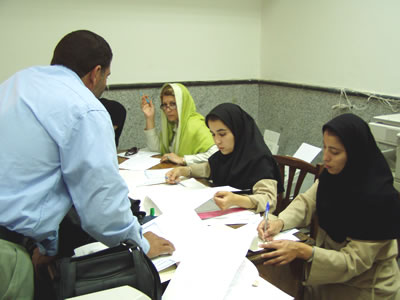 ERFO volunteers processing the children paperwork at Melli Bank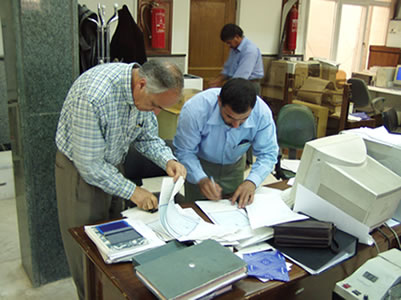 Dr. Farivar assisting with stamping the CDs for the children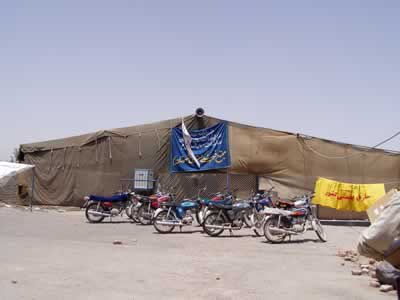 Tent setup by Behzisti Org.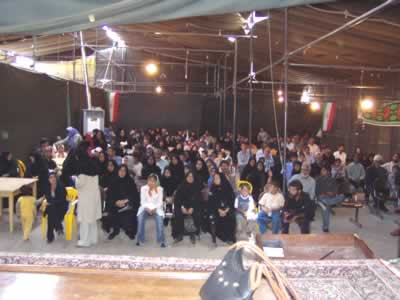 Children/Guardians receiving saving account certificates
at a gathering under Behzisti tent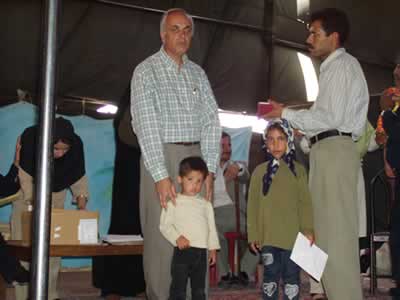 Children/Guardians receiving saving account certificates
at a gathering under Behzisti tent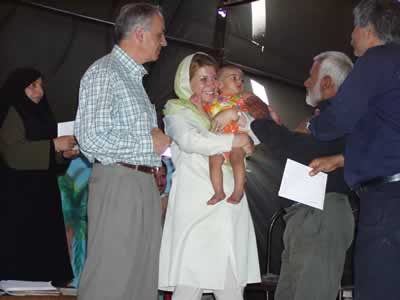 Children/Guardians receiving savings account certificates
at a gathering under Behzisti tent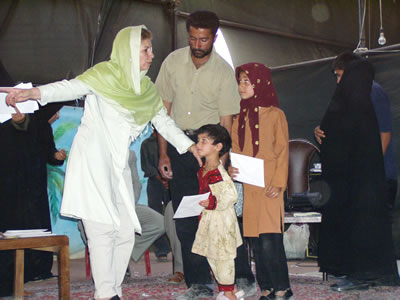 Children/Guardians receiving savings account certificates
at a gathering under Behzisti tent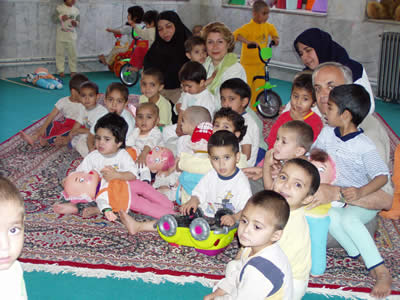 Children at Kermanian Orphanage in Kerman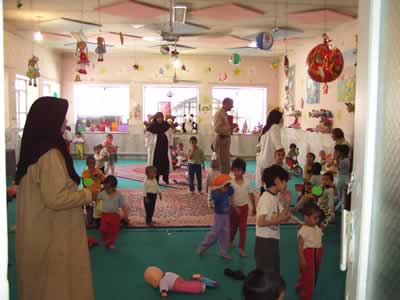 Children at Kermanian Orphanage in Kerman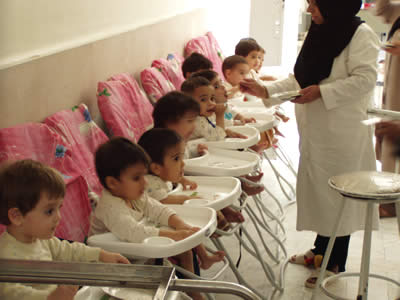 Infants and toddlers at Kermanian Orphanage in Kerman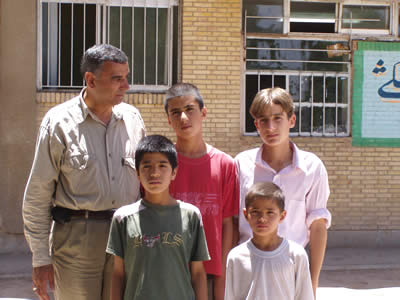 At Sanati orphanage for boys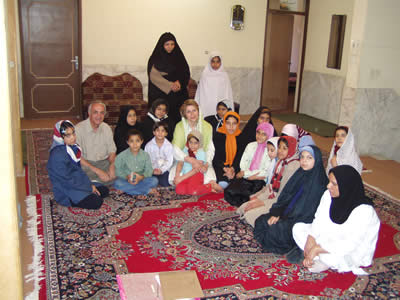 At Dr. Zia Orphanage for teen girls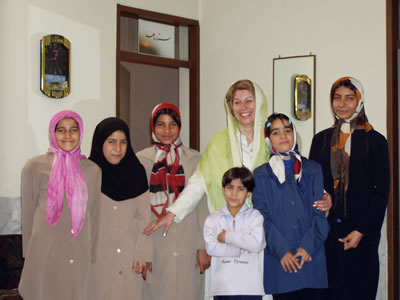 At Dr. Zia Orphanage for teen girls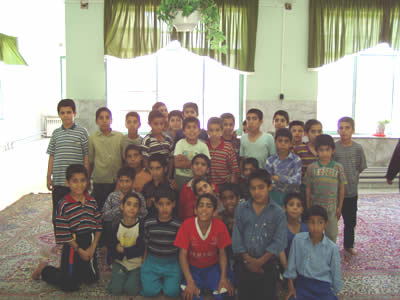 Children at Dilmaghani Orphanage for teen boys