I am frequently asked the following questions:
Who is ERFO's representative in Iran?
How much is he paid to do this work?
If not for money, then what is his motive for volunteering?
Mr. Jamal Farivar is my youngest brother. He is the only person performing all ERFO related work in Iran, and he is not paid by ERFO (ERFO's day to day running has considerable out of pocket expenses that he and I share in the US and Iran). He risks his health, family life, and job, and uses the entirety of his vacation time on this time consuming and thankless job. He has been married to his wife for 25 years, and has 3 boys (the oldest Mohammad Reza is a university student who often accompanies his father to the areas as an extra hand).
To quote a portion of what is written about Jamal in a news bulletin published by Mohseni Foundation in Canada:
"Mohandes Jamal Farivar was born in 1336 H.S. (1957) in Naeen. He is the younger brother of Dr. Mohammad Farivar, a gastroenterologist and clinical professor of medicine in Boston and Dr. Khalil Farivar, a professor of Pediatrics in Iran. He is a mechanical engineer who has served the people of Iran in multiple positions in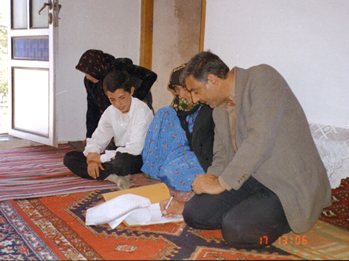 which he was most needed, including mayor of Chah-Bahar, deputy governor of Chah-Bahar, head of technical office of Yazd Province, and director of rebuilding organizations in Isfahan, Kordestan, Kerman, Sistan & Baluchestan Provinces. Finally, he joined the National Oil ministry office in Iran. In the latter he has been in charge of home building projects, been the senior expert of regulating and controlling of contracts, senior engineer for self-sufficiency in repair and well being of petrochemical factories of Arak. In addition to his official positions, he has been in charge of activities related to the successful ERFO program in Iran, and coordinates Bonyade Nikukari Farivar in Naeen.
In Arak for the past several years he has been working with the Mohseni foundation in providing 1000 sets of clothing for needy children in NowRuz. From his own funds he has established a charitable organization lending interest free loans to the needy young couples and the sick. He is also head of the student parent educational organization of Arak."
Jamal started his missionary work with ERFO immediately after the earthquake of Ardebil Province several years ago and has been handling all of ERFO's work in Iran since that time. He has managed to continue caring for children under our care from the past 6 earthquakes of Ardebil, Ghaen, Birjand, Ghazvin and Hamadan, Shahrekord, Zanjan and Guilan provinces. He has spent most vacations he has had traveling to these regions, identifying children orphaned by earthquakes, finding suitable legal guardians (preferably a close family member), working with local authorities to complete required legal papers related to guardianship, and acting as a facilitator with local banks to open an account for each child and then delivering bank CDs in person to the children. Additionally, each year before the Iranian New Year he travels to all these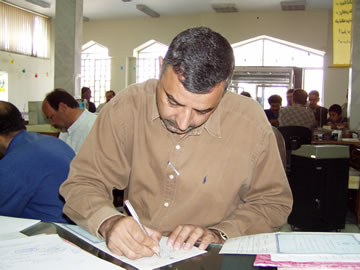 regions in order to deliver a NowRuz bank certificate to compensate for inflation.
Jamal has been in Bam for several weeks now and with the help of volunteer social workers from Behzisti office, he has identified and completed charts of about 500 orphans in Bam, opened bank accounts for them in the Melli bank in Bam, and deposited money in each and every account. As of the time of this writing, he remains in Bam to continue his work.
- Mohammad Farivar